From Peter Westerman: pfwesterman@icloud.com.
I want one or two others to join me locally to "parade" some sandwich board style signs I am having made in Ann Arbor.
Here are the "proofs" of the first sign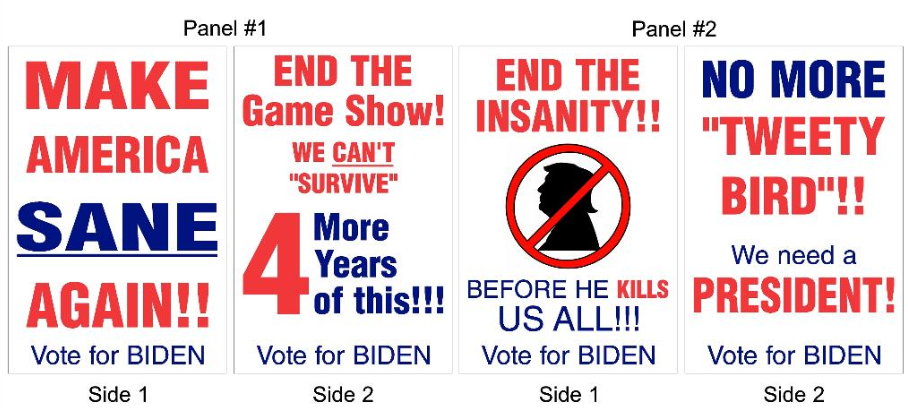 I've ordered a second sign that will read as follows – – with similar formatting.
#1
Vote like your LIFE
depends on it.
IT DOES!!
PUNISH Republicans
Vote DEMOCRATIC
#2
End of an ERROR!!
(Graphic)
Let's FIX THIS!!
Vote for BIDEN!
#3
The CLOWN SHOW must END!
(Graphic)
Donald – You're FIRED!
Vote for BIDEN
#4
Biden & Harris
or
Trump & Putin
(The "Graphic" is a repeat of the silhouette inside the circle/slash symbol.)
I hope I can get someone to join me up here – in Leland, Glen Arbor, Suttons Bay and even Traverse City. "Parading" doesn't mean "marching". It's mostly just walking around a little or standing on busy street corners. I've got two artificial knees and still plan to do this. And my BLUE baseball cap reads "Make America SANE Again".
I'll be in Ann Arbor for Labor Day weekend – but there are two months between then and the election!! And I'll be up here the vast majority of that time.
I had my first sign made when "W" was up for re-election and walked through the Ann Arbor Art Fair with it for four days. Must have been exposed to TENS of thousands of people. (The Art Fair draws HUNDREDS of thousands.) Got LOTS of smiles, some outright laughs, plenty of handshakes, some pats on the back – – and ONE objection – – which was to my use of "Sonofabitch" on one of the sign panels.