Recurring Events
Leadership Team Meeting: 1st Saturday of each month at 10:00am, Munnecke Room. All Leelenau County Democratic Party Members welcome.

County Commissioners' Meeting: 2nd Tuesday of each month at 9:00am, Leelanau County Government Building Board Room. Public welcome.
County Commissioners' Meeting: 3rd Tuesday of each month at 7:00pm, Leelanau County Government Building Board Room. Public welcome.
Leland Indivisible: 3rd Thursday of each month at 6:00 p.m.  Munnecke Room.
State Theater Ushers: 4th Wednesday of each month and 4th Thursday of each month
Occupy Traverse City Street Demonstration: Every Saturday, 11am to 1pm, Front Street in front of Chase Bank and across from Horizon Books.
Tuesdays with Jack: Every Tuesday, 10:30 am, US Congressman Jack Bergman's office, 1396 Douglas Dr, Ste 22b.  Driving south on Garfield, turn right on Ashland. The building is on the right.
Upcoming Events
DISH WITH THE DEMS – Thurs Oct 12, 5 pm til…. "
A STRICTLY SOCIAL EVENT: Get to know your like-minded Leelanau neighbors!  Gather to enjoy our beautiful area this autumn evening.  Bring friends to mingle at a classic Leelanau County destination.  Join us at The Cove, 111 E. River St, Leland, 5pm til….?   No charge, no speeches – just fun!  Drinks and food on your own dime……
COFFEE HOUR WITH SHRI THANEDAR – CANDIDATE FOR GOVERNOR –
1:30-2:30 p.m. Saturday, Oct. 7, 2017 | Pedaling Beans Coffeehouse, 116 E. Philip St., Lake Leelanau, MI
Community members and precinct delegates are invited to hear Shri Thanedar share his vision for Michigan over a cup of coffee. Express what issues matter most to you, ask questions, and pick up a complimentary copy of Shri's memoir, "The Blue Suitcase: Trial and Triumph in an Immigrants Life." If you have any questions or concerns please call 734-355-2218.
Annual Dinner & Fundraiser: Saturday May 19 at the Bluebird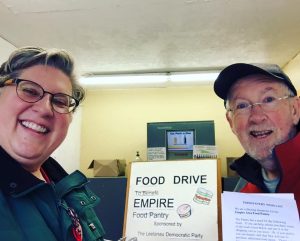 Food Drive
NEXT: October 21
Can you donate two hours? Volunteers are needed! Sign up for a two-hour shift and hand out fliers with suggested food items – as well as collect donations at the following locations:
* Deering's Food Market – Empire
* Anderson's IGA – Glen Arbor
* Leland Mercantile – Leland
* Hansen's Foods – Suttons Bay
You can work solo or with another volunteer from your community.
All you'll be needing is a great big  friendly smile! Contact Jay Johnson @ 326-2636 Or JOIN on our Facebook Page.
Local food pantries rely on LCDP Food Drives throughout the year and your efforts are needed!
FYI: Donations from the Mercantile and Hansen's go to the Leelanau Christian Neighbors to support their food banks in both Northport and Suttons Bay. Donations from Buntings go to Holy Rosary/St. Rita's Food Bank. Donations from Anderson's and Deering's are given to the Empire Area Food Bank.