Recurring Events
Leadership Team Meeting: 1st Saturday of each month at 10:00am, Munnecke Room. All Leelenau County Democratic Party Members welcome.

County Commissioners' Meeting: 2nd Tuesday of each month at 9:00am, Leelanau County Government Building Board Room. Public welcome.
County Commissioners' Meeting: 3rd Tuesday of each month at 7:00pm, Leelanau County Government Building Board Room. Public welcome.
Leland Indivisible: 3rd Thursday of each month at 6:00 p.m.  Munnecke Room.
State Theater Ushers: 4th Wednesday of each month and 4th Thursday of each month
Occupy Traverse City Street Demonstration: Every Saturday, 11am to 1pm, Front Street in front of Chase Bank and across from Horizon Books.
Tuesdays with Jack: Every Tuesday, 10:30 am, US Congressman Jack Bergman's office, 1396 Douglas Dr, Ste 22b.  Driving south on Garfield, turn right on Ashland. The building is on the right.
Upcoming Events
Saturday, June 24 t

he Cedar Parade, in Cedar: 
Meet at the Solon Twnshp Hall at
3:30
, the parade starts at 4.
July 4 Parades: We need people to walk in our Parades – join us – we have signs.  It's fun!
The Glen Arbor Parade is on the

4th of July

– meet at

10:30

at the Christian Science Church at Forest and 109.
The Leland Parade is at

3:30

on

July 4th

….meet at

2:30

…..look for us on the streets between Lk Michigan and M22, southwest of Leland, where all of the parade floats gather for the parade (was that clear as mud??).
September 4: Labor Day Picnic
 – it's always at
1:00
, at Peterson Park.
July 15: Highway Cleanup
Food Drives: August 26, October 21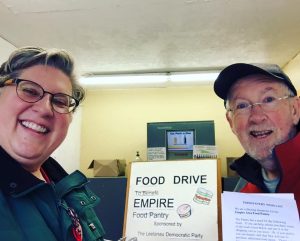 Can you donate two hours? Volunteers are needed! Sign up for a two-hour shift and hand out fliers with suggested food items – as well as collect donations at the following locations:
* Deering's Food Market – Empire
* Anderson's IGA – Glen Arbor
* Leland Mercantile – Leland
* Hansen's Foods – Suttons Bay
You can work solo or with another volunteer from your community.
All you'll be needing is a great big  friendly smile! Contact Jay Johnson @ 326-2636 Or JOIN on our Facebook Page.
Local food pantries rely on LCDP Food Drives throughout the year and your efforts are needed!
FYI: Donations from the Mercantile and Hansen's go to the Leelanau Christian Neighbors to support their food banks in both Northport and Suttons Bay. Donations from Buntings go to Holy Rosary/St. Rita's Food Bank. Donations from Anderson's and Deering's are given to the Empire Area Food Bank.