Recurring Events
Leadership Team Meeting: 1st Saturday of each month at 10:00am, Munnecke Room. All Leelenau County Democratic Party Members welcome.

County Commissioners' Meeting: 2nd Tuesday of each month at 9:00am, Leelanau County Government Building Board Room. Public welcome.
County Commissioners' Meeting: 3rd Tuesday of each month at 7:00pm, Leelanau County Government Building Board Room. Public welcome.
Lelanau Indivisible: 3rd Thursday of each month at 6:00 p.m.  Munnecke Room.
State Theater Ushers: 4th Wednesday of each month and 4th Thursday of each month
Occupy Traverse City Street Demonstration: Every Saturday, 11am to 1pm, Front Street in front of Chase Bank and across from Horizon Books.
Tuesdays with Jack: Every Tuesday, 10:30 am, US Congressman Jack Bergman's office, 1396 Douglas Dr, Ste 22b.  Driving south on Garfield, turn right on Ashland. The building is on the right.
Upcoming Events
Leelanau County Democratic Party Spring Convention: 10 am, Saturday March 3, 2018 in the Munneke Rm (adjacent to the Leland Township Library). We will consider resolutions to be proposed at the Michigan Democratic Committee Spring Endorsement Convention and make appointments to the Rules, Resolutions and Credentials Committees.

Michigan Democratic Party Spring 2018 Endorsement Convention: 

April 15, 2018, 9am – 5pm

, Cobo Hall, Detroit. 

The purpose of this convention will be to offer the Party's endorsement to statewide  candidates for Attorney General, Secretary of State and State Supreme Court.  One must be a member of the Michigan Democratic Party at least 30 days prior to the MDP Spring Convention to be able to vote, or a candidate or Precinct Delegate in order to vote at the MDP Convention.  Leelanau County has 14 votes – please join us in Detroit for the MDP Convention!

Annual Dinner & Silent Auction Fundraiser: Saturday May 19, 5 p.m. at the Bluebird
Food Drive
NEXT: ??
Can you donate two hours? Volunteers are needed! Sign up for a two-hour shift and hand out fliers with suggested food items – as well as collect donations at the following locations:
Deering's Food Market – Empire
IGA – Glen Arbor
Leland Mercantile – Leland
Hansen's Foods – Suttons Bay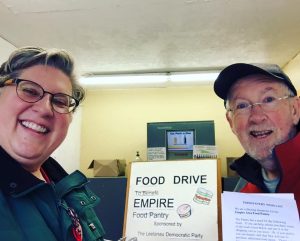 You can work solo or with another volunteer from your community.
All you'll be needing is a great big  friendly smile! Contact Jay Johnson @ 326-2636 Or JOIN on our Facebook Page.
Local food pantries rely on LCDP Food Drives throughout the year and your efforts are needed!
FYI: Donations from the Mercantile and Hansen's go to the Leelanau Christian Neighbors to support their food banks in both Northport and Suttons Bay. Donations from Buntings go to Holy Rosary/St. Rita's Food Bank. Donations from Anderson's and Deering's are given to the Empire Area Food Bank.