LCDP Headquarters | 101 E Dame Street Suite 1 | Suttons Bay, MI 49682 | (231) 409-0588
Hours: Mon thru Fri 10:00 am to 4:00 pm
We are the Leelanau County Democratic Party (LCDP), an active, progressive organization whose goal is to enhance the quality of life in Leelanau County and its surrounding jurisdictions. Through the commitment of our members and the election of responsive government officials, we strive to improve the environment, economy, education, and healthcare in our County. Leelanau Democrats are an inclusive group of individuals working hard and having fun making a positive impact on our community.
We respect the conscience of each American and recognize that members of our party have deeply held, and sometimes differing, positions on issues of personal conscience, such as abortion and the death penalty. We recognize the diversity of views as a source of strength, and we welcome into our ranks all Americans who may hold differing positions on these and other issues.
2016 Labor Day Award Winner Cindy Hollenbeck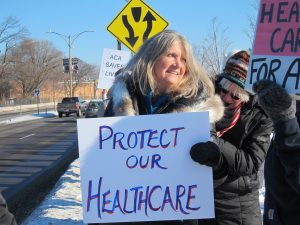 Gwenne Allgeier demonstrating in TC