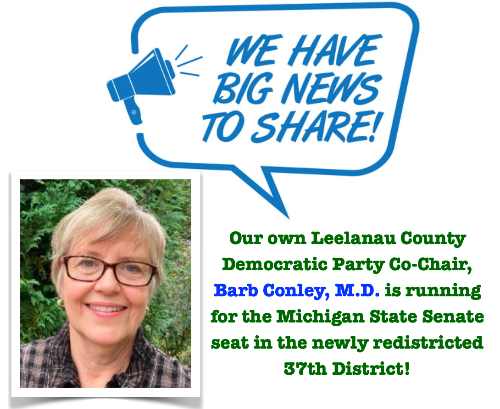 And, we are so excited!  
Dr. Conley was born and raised in southeast Michigan and received her education at both the University of Michigan and Michigan State University.  She is an oncology physician and moved to Northport permanently in 2016 from the Washington DC area, where she headed the National Cancer Institute's program of clinical trials and tests that can be used for personalized cancer treatment.
Dr. Conley chaired the Michigan State University College of Human Medicine's Hematology-Oncology Division from 2005 to 2010. She currently chairs the Benzie Leelanau District Board of Health and was elected to the Northport School Board in 2020.  She also serves on the board of the Early Childhood Initiative in Leelanau County and is part of a working group to increase access to mental health in northwest lower Michigan.  She is a member of the Rotary and the League of Women Voters and with all that, Dr. Conley also volunteers with the State on administering Covid vaccinations!
Phew – That's Impressive!
Michigan's 37th State Senate District (see map below) encompasses a large area that includes Leelanau County, Grand Traverse County and runs north along the western side of the state into the Upper Penninsula's eastern edge.
We will need to work hard to get Dr. Conley's message out and get her elected so she can put all her wealth of experience to work for the people of Michigan!
Stay tuned for information on how you can help and where you can donate to Dr. Conley's campaign! 
February 22, 3:00, Broomstacks, 
Maple City
You are invited to join the Michigan Rural Caucus & Michigan AG Dana Nessel!
Join via Zoom
 this Monday, February 14th,
 for a conversation with special guest, MI Attorney General Dana Nessel. We always appreciate Dana's sharp wit and willingness to discuss all that concerns us. If you have a question or topic you'd like her to address, you may send it to 
[email protected]
You are invited to a Zoom meeting.
When: Feb 14, 2022, 07:00 PM Eastern Time (US and Canada)
After registering, you will receive a confirmation email containing information about joining the meeting.
General Membership Meeting Notice
Call to Convention

At our next LCDP Leadership Team Meeting, we will hold our Call to Convention.  The purpose of the Convention shall be to elect Members and Alternates of State Convention Committees and to consider resolutions to be forwarded to the State Party.

Members of the LCDP and the MDP are eligible to vote.  One must be a member of the MDP for 30 days prior to April 9th or by March 10th.

This is also a General Membership meeting so if you would like to join us for this meeting to learn what our amazing volunteers are doing to elect Democrats in the upcoming Mid-terms, please register at the link below.
Hi there,

You are invited to a Zoom meeting.
When: Mar 5, 2022 10:00 AM Eastern Time (US and Canada)
Register in advance for this meeting:
https://us02web.zoom.us/meeting/register/tZUvdeCopzksGd0cpRm6PD0QWpmbw5QIqD97 
After registering, you will receive a confirmation email containing information about joining the meeting.
About this event
This 75-minute webinar is an introduction to the basics of strategic messaging, using cutting-edge, progressive messaging frameworks. Get the tools you need to counter dog-whistle politics and disinformation, and learn how to advocate for what we want and need for a better tomorrow.
The event is open to all and is Co-sponsored by Tri-County Democrats of Pennsylvania and County to County Democrats of North Carolina.
Register here: https://www.mobilize.us/wordsthatwin/event/364400/