Notice of General Membership Meeting
Organizing for 2022 &
Call to Spring Convention
February 6th, 10:00 a.m.- Via Zoom

Please join us for our monthly Leadership Team Meeting and see how we are already organizing for 2022! See some ways you can get involved and let us know your suggestions.

Register in advance for this meeting:
https://us02web.zoom.us/meeting/register/tZErdO2sqjovHtLLUhLteZNGuZBbJbXLZ0mw
After registering, you will receive a confirmation email containing information about joining the meeting.We will also hold our County Convention for the upcoming MDP Spring Convention. The LCDP is charged with electing a member of the rules committee. The secondary purpose of this convention will be to consider resolutions to be forwarded to the state party for consideration.

In order to hold Party office or vote at any Convention, Caucus, or meeting at any unit of the Michigan Democratic Party at any level, a person must be a member of the Michigan Democratic Party for at least thirty (30) days prior to that Convention, Caucus, or meeting. A Party member must be a qualified elector in order to vote on nominations for public office.
Monday, January 18th
Martin Luther King Jr. Day President-elect Joe Biden, Vice President-elect Kamala Harris, and millions of our friends across the country will join forces for a National Day of Service to lift up our communities and serve our neighbors. Sign up for a an hour or two of socially-distanced virtual service.LCDP's MLK Day of GivingDonate Food, Baby Pantry items, or make a monetary contribution to Leelanau Christian Neighbors. Drop off items on Monday mornings or mail a check to: LCN, P.O.Box 196, Lake Leelanau, MI 49653 or donate online @ https://leelanauchristianneighbors.org/make-an-online-monetary-donation/
Please note your donation is from a LCDP member.
Tuesday, January 19th
Memorial to Lives Lost

Help President-elect Joe Biden, Vice President-elect Kamala Harris honor the neighbors, friends, and loved ones we have lost to COVID-19 while paying tribute to the health care and frontline workers who have served those in need by lighting a candle or shining a light in their memories at 5:30 PM ET. Please fill out this form to confirm your participation.
Tune in as President-elect Biden and Vice President-elect Harris are officially sworn into office. The inaugural presidential escort will take place that afternoon, followed by a televised celebration.
The MDP will have more details on how to get involved, tune in, and celebrate the inauguration next week. Keep an eye on our Facebook, Instagram, and Twitter pages, use the hashtag #Inauguration2020, and share graphics from our digital toolkit.
Interested in running for office? Want more information to see if you might be interested? Do you want to be more involved in a campaign and learn finance rules for candidates? IT IS NOT TOO SOON TO PLAN FOR THE 2022 ELECTION!You have several resources available! If you decide to run or have questions, let us know by emailing Fred Cepela, chair of Campaign and Candidates

[email protected]

or Barb at

[email protected]



The Michigan Democratic Party
The MDP offers many online resources for those interested in running for office. Currently, they are offering a webinar series for interested individuals. The first webinar is next week and the series will take place throughout January with more dates to be announced in February.
2021 Webinar Series:The Basics of Fundraising
Tuesday, January 19th at 7 PM
RSVP
MDP Party Structure and Participation
Thursday, January 21st at 7 PM
RSVP
Robert's Rules and Parliamentary Procedure
Tuesday, January 26th at 2 and 6 PM
RSVP
Redistricting in Michigan at the Local Level
Tuesday, January 26th at 7 PM
RSVP
Social Media and Branding
Wednesday, January 27th at 7 PM
RSVP
Michigan Election Basics: What You Need to Know to Fight Disinformation
Thursday, January 28th at 7PM
RSVP
You can also see all webinars here.Please register for each webinar you're interested in for the information to tune in and learn from some of the best campaign practitioners in Michigan.

Democratic National Committee
https://traindemocrats.org Information for candidates, campaign staff, and local leaders, as well as information about how the Democratic National Committee functions – online! Check it out! Starts NOW!Emily's List
Dedicated to electing progressive women! Sign up at https://trainingcenter.emilyslist.org/

Great Lakes Political Academy
(Attention- short notice but there will be more!)
GLPA-LEAD has been a fantastic partner organization to the MI House Dems, and they're starting their training program for prospective candidates now! The first one is this Saturday, January 16th, at 11 am. The invite is attached, and folks can register here.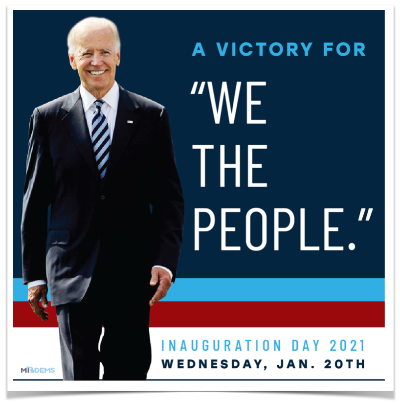 LCDP
P.O. Box 215
Empire, MI 49630


[email protected]



Visit LCDP Website
http://www.leelanaudemocrats.org

Make Online & Monthly Contributions
https://secure.actblue.com/contribute/page/lcdp2

Facebook Page
https://www.facebook.com/groups/leelanaudemocrats/

LCDP Facebook Bazaar
https://www.facebook.com/groups/612850232658821/

If the above links don't work with a click, please copy and paste them into the browser.