Sent: Mon, Nov 30, 2020 4:45 am
Subject: Why It Matters: The rural urban divide in Michigan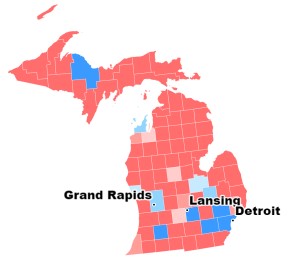 FYIThursday, December 3, 7-8 PM
"Michigan Humanities will present a series of virtual state-wide conversations that will examine the electoral process by exploring Michigan's urban rural divide and the influence of social media. These conversations will bring together humanities professionals and Michiganders and provide a place for open dialogue and learning.
The first conversation on December 3rd will discuss the history and affect the urban rural divide in Michigan has had on local, state, and federal elections. The discussion will be led by Dr. Kevin G. Lorentz II and Dr. Thomas Henthorn, both from the University of Michigan at Flint.
**Pre-registration is required for the Zoom webinar and can be found here: https://us02web.zoom.us/webinar/register/WN_J_fM8r54Se2xyuyAws9dNA
Upon registration, attendees will receive a link to the event. Questions can be submitted on the registration form and during the Q&A portion of the online, webinar-style event.
This program is funded by a $1.96 million grant from The Andrew W. Mellon Foundation to the Federation of State Humanities Councils. The grant supports a new national initiative, "Why It Matters: Civic and Electoral Participation," which will explore civic participation as it relates to electoral engagement in a multivocal democracy. Programs will be conducted in 43 US states and territories throughout the course of the initiative."