Absentee Primary Ballots are being mailed now & you might have already received yours! We have had many people contact us to ask who the Leelanau County Democrats have endorsed. So, here is a list of all the Democratic Candidates that we have endorsed so far…

President of the United Sates:
Joe Biden

US Senator:
Senator Gary Peters

Michigan's 101st Congressional District:
Beth McGill Rizer
Leelanau County Commissioner:
George Bower – District 1
John Hunter – District 2
Lois Bahle – District 3
Ty Wessel – District 4
Patricia Soutas-Little –
District 5
Gwenne Allgaier – District 6
Julie Morris – District 7

Township Trustees:
Allison Zimpfer-Hoer – Bingham Township
Georgie Murray – Leelanau Township
Gina Harder – Leelanau Township

Township Supervisors:
John Sanders – Write-In, Leelanau Township
Susan Och – Leland Township

Township Clerk:
Monica Diaz – Leelanau Township

Road Commission:
Garth GreenanTo learn more about our Democratic Candidates, go to our Website at: http://www.leelanaudemocrats.org/ and select "Our Candidates" at the top of the page. There you will find links to all our candidates websites or Facebook pages! Also…The Leelanau County Democratic Party supports a YES vote on the Leelanau County Senior Services (LCSS) millage renewal August 4. People over age 65 comprise approximately 43% of Leelanau County's population; 44% of whom live alone. This tremendous asset supports seniors staying in their homes. LCSS collaborates with many programs and volunteers so ALL Leelanau County seniors can access services such as Meals on Wheels, Estate Planning and tax preparation services, assistance navigating Medicare/Medicaid enrollment, obtaining medical equipment, foot care, medical appointment transportation, in-home assessments, personal check-ins and more – so necessary now during theCOVID-19 pandemic. Vote YES!Barbara Conley MD, Co-Chair LCDP
To learn more about Senator Peters and how he is working for Michigan go here: https://www.peters.senate.gov/about/working-for-michigan

NEW! NEW! NEW!
John Hunter, Leelanau County Commissioner Candidate for District 2, has a new Facebook page! Go to https://www.facebook.com/John-Hunter-for-Leelanau-County-Commissioner-District-2-102989371473474/ to learn more about John, check it out, it's awesome! To donate to John's Campaign, send a check to: Committee to Elect John Hunter, P.O. Box 424, Suttons Bay, MI 49682
Julie Morris, Leelanau County Commissioner Candidate for District 7 has updated her contact information. You can contact Julie at [email protected] or call her at: 231-835-0120. Check out Julie's Facebook page at: https://www.facebook.com/pages/category/Political-Organization/Julie-Morris-for-Leelanau-County-Commissioner-District-7-552543801808923/

All registered voters in Michigan have the right to vote by mail. It's a safe way to vote and protect your health, and the process is secure and accurate. You can now apply for an Absent Voter Application online through the Michigan Secretary of State by going here: https://mvic.sos.state.mi.us/avapplication . If you use a P.O. Box, make sure to use your mailing address as the place you would like to have your Absent Voter Ballot sent.
Here is a quick video you can watch to see how Vote by Mail works! Go here: https://youtu.be/oE71ROKU9Sg

I want to take the time to thank Leelanau for all their support in my journey as a candidate for the State House of Representatives for the 101st district. The amount of time, treasure, and talent you have invested has given me a level of confidence I never thought attainable. It is this confidence you have gifted me, with your investment, that I will carry through the primary, into the general, and into office. It is the support of the people, such as you all, that will win the election by using your voices to make the changes in our government that we all wish to see. I hope I have earned your vote this August 4th in the primary election so that way we may continue to work together through the November general election.

Beth McGill-Rizer
During this time of continued social distancing, we realize that voters still want to be informed voters. We continue to offer these popular private zoom sessions. We will set them up and adapt them to what best fits your group. Come find out more about Linda O'Dell and her run for U.S. Representative in this 1st District. Yard signs available too! Email here: http://[email protected]

Dana Ferguson- Democratic Candidate for Michigan's 1st Congressional District

Although the Ferguson for US Congress campaign is feeling optimistic about the Aug. 4 Democratic Primary, Team Ferguson is taking nothing for granted and working around the clock to punch out policy positions and procure quality endorsements across the district.

The campaign is leading the two-candidate pack in elected official and community leader endorsements by welcoming over 100 avid supporters for his vie for US Congress. The momentum was first created by the support of Fmr. Michigan Senator "Iron Mike" Prusi, and now includes the Anishinabek Caucus, the Rural Caucus, the Michigan Regional Council of Carpenters and Millwrights, ASCME Chapter 25, and healthcare workers at Bishop Noa.

Ferguson's latest endorsements are dozens of former and current mayors, municipal commissioners, Veterans and Tribal council members.

Beyond endorsements, Dana has taken several pledges, like the "Sandy Hook Promise" and the "No Fossil Fuel Money" pledge. He was honored with the distinction of "Moms Demand Action," an advocacy group for gun safety.
Ferguson's campaign is busy developing policy on the takeithomemi.com website, so far publishing 13 robust positions on various issues from unions, criminal justice reform, gun safety, Climate Change, economy, healthcare, and education. View them all at takeithomemi.com/vision.
Yard signs are going fast across the district and the campaign is working now to get out the vote (GOTV). The campaign has election information available for district voters to view their ballots on the front page of his website.
Ferguson is also keeping up a policy blog, offering reactions to news and opinion editorials daily, and engaging with thousands of district residents via social media – on Facebook, Instagram and Twitter.
The campaign has opened a headquarters office in downtown Marquette, Michigan. Due to COVID-19, the office is closed to the public but will act as a hub for campaign material and constituent services through the General Election.
To contact the Ferguson campaign e-mail [email protected] or visit takeithomemi.com. To donate to the movement to flip the first visit bit.ly/donatemi1.
Join our Events & Membership Committee!
Here is an open invitation to get involved with a dynamic committee of the Leelanau County Democratic Party. If you have looked for a way to participate in an enthusiastic, energetic group that organizes and develops enjoyable events, the Events and Membership Committee welcomes you!
Please contact Kerry Navabi or Susan Kessler at [email protected]

Volunteer with our Canvassing Team!
We are making phone calls, staffing our future pop-up offices, delivering signs, and dropping door hanging lit for candidates. Please contact Cindy Hollenbeck at 231.334.4560 or 230.499.9004 or email [email protected] .

Sign Up to phone bank with the Michigan Democratic Party's ONE Campaign. They are coordinating with the Joe Biden and Senator Peters Campaigns along with all 83 County Democratic Parties across Michigan. Campaigning door to door is currently not possible. We can place door hangers but knocking on doors is probably a no go for now. So, phone banking is becoming more and more important in order to chase down Absentee Ballots and inform Democrats about our candidates. Weekends of Actions include volunteers from all over the State making these phone calls. To learn more and to VOLUNTEER TO TAKE ACTION YOU CAN:

Sign up to make phone calls with the ONE Campaign "Weekend of Action" to mark 100 days out on July 25-26. Each phone bank kicks off with a quick training to make sure that you have all the information that you need to make calls from home. Go here to sign up:
https://www.mobilize.us/onecampaignformichigan/event/286847/
For more information, contact Eli Judge, Michigan Coordinated Campaign Field Organizer for the 101st District at [email protected] or call him at 608-332-3940Join your Northern Michigan Field Organizers for "State of the Race" updates on the most important election of our lifetime, and how you can make a difference. We're gearing up for a major push to mark 100 days until the election. It's time to roll up our sleeves and get to work! To join the Zoom event go here: https://www.mobilize.us/onecampaignformichigan/event/286527/

THIS….Hillary Clinton lost Michigan by only 10,703 votes! We all need to work as hard as we can to make sure that Michigan goes BLUE in 2020! Let's all wake up on November 4th tired and deliriously happy knowing we did everything we could to make victories happen across Michigan. It's now or never!Vote Vote Vote Vote Vote Vote Vote Vote Vote Vote Vote

Thoughts on "My vote doesn't count." by Mary O'Neill
Often you hear, "Why should I vote? My vote doesn't count." My response is, yes, your vote doesn't count…. when you don't vote. Votes only count when they are counted with other votes. The root word of "vote" is the same as for "voice." You must join your voice with others in order to be heard. That's why your vote counts. Think of a choir. The more voices, the louder the song.

In the 2016 presidential election, only 55% of eligible voters voted. Not voting is the same as voting except that you have no say in the outcome. Nearly half of the voting population, gave away their right to have a say in their self-governance to someone else. That is a shame. When you don't vote, it's like giving the opponent two votes.

So, yes, your vote counts, whether you vote or not. Saying your vote doesn't count is like saying you don't count. But, you do. So, let your voice be heard!

Joe Biden Campaign Update……After releasing two new plans as part of his "Build Back Better" vision for economic recovery, Joe outlined how his $2 trillion proposal will create the good-paying union jobs we need to build a resilient and sustainable infrastructure now and deliver an equitable clean energy future.

READ: The Biden Plan to Secure Environmental Justice and Equitable Economic Opportunity in a Clean Energy Future
READ: The Biden Plan to Build a Modern, Sustainable Infrastructure and an Equitable Clean Energy FutureJoe spoke with local media, including KPNX in Phoenix and WBTV in Charlotte, about his plans for economic recovery and how Trump's failed leadership has worsened the fallout from the pandemic. The campaign released a new ad "Tough" in Arizona, Florida, North Carolina, and Texas.The campaign announced the hire of a national polling firm, Latino Decisions, to advise the campaign on critical issues impacting the Latino community and provide critical research to drive outreach.The campaign announced additional staff hires in Arizona, joining State Director Jessica Mejía and Senior Advisor Andrew Piatt.

JOE'S TWEETS TO AMPLIFY @JoeBiden: When Donald Trump thinks about climate change, all he can muster is one word: "hoax." When I think about climate change, I think of a word as well: "jobs." Good-paying, union jobs that put Americans to work.@JoeBiden: I want every single American to know: If you're sick, struggling, or worried about how you're going to get through the day, I will not abandon you. We're all in this together. And together, we'll emerge stronger than before.

To register for this event go here: https://www.mobilize.us/joebiden/event/287715/?source=press-advisory-20200714&refcode=press-advisory-20200714&utm_medium=press&utm_source=advisory&utm_campaign=20200714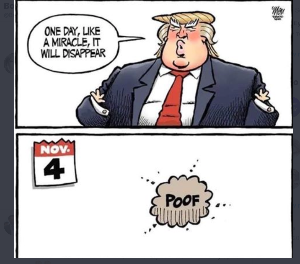 Senator Dick Durbin of Illinois stopped by to say Hello when he saw my Biden flag! Giving the thumbs up for the Leelanau!
#FlagMichigan4Biden